February 27, 2023
Having Fun Together: The Best Play with Friends Games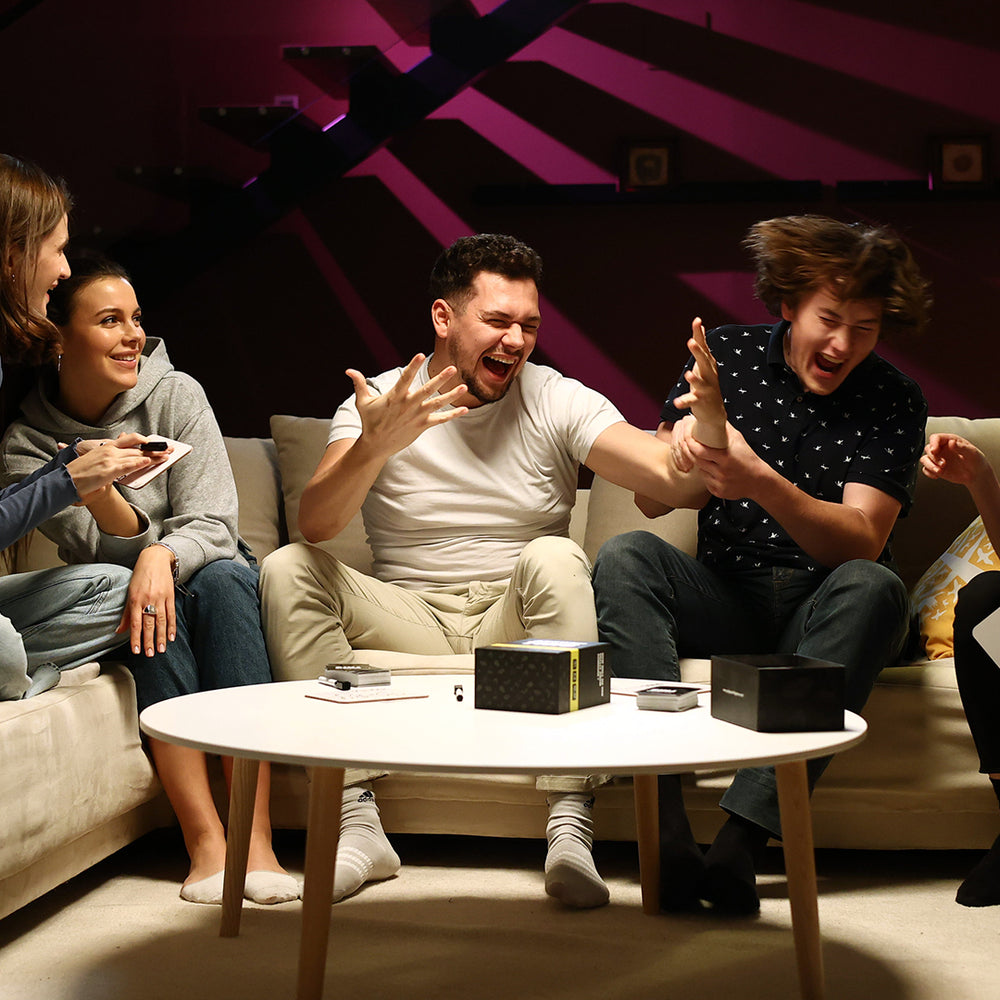 Hello there! If you're looking for fun things to do with your pals, you've come to the right spot. Game evenings are an excellent way to bond with your friends, whether you're competing against them at a classic board game or simply seeking to unwind and laugh with some hilarious party games. The best part is that there are so many alternatives to select from! So gather your buddies, get some refreshments, and prepare to have a blast with these great play with friends games.
Games manufacturer Hasbro found that 91% of families who played together said it had a positive impact on their mood, with parents also hoping it helped children to learn communication, sportsmanship and teamwork skills.
Get Your Game On: Classic Board Games That Guarantee an Evening of Fun with Friends
When it comes to classic board games, there are a few that stand out as tried-and-true favorites for playing with friends. Here are three great options to consider:
Monopoly: Monopoly is a classic board game that has been around for decades. In the game, players move around the board, buying and trading properties, and trying to bankrupt their opponents. Monopoly is a great game for groups because it requires both strategy and luck, and can lead to some intense rivalries and friendly competition. Plus, with so many versions of the game available, from classic to themed versions, there's sure to be a Monopoly set that everyone will enjoy.
Scrabble: Another traditional board game that is great for playing with friends is Scrabble. Players win points for the length and complexity of their words in this game by arranging letter tiles on a board. Scrabble is an excellent game for groups that enjoy language and a challenge, as it demands both creativity and strategy. Furthermore, with so many distinct word combinations available, each game is bound to be original and enjoyable.
Clue: Clue is a murder-mystery board game that is ideal for groups that enjoy a detective games. Players move around the board, gathering clues and attempting to solve the mystery of who murdered Mr. Boddy, with what weapon, and in which room. Clue is an excellent group game because it promotes teamwork and deduction as players collaborate to solve the mystery before their opponents. Clue is also a game that may be played again and over again because there are several possible solutions to the mystery.
Revamp Your Game Night: Discover the Top Modern Party Games That Will Elevate Your Fun and Keep Your Friends Coming Back for More!
Cards Against Humanity: Cards Against Humanity is one of the most popular group games. This amusing party game is ideal for a night of inappropriate laughter. The rules are straightforward: one player pulls a black card with a statement or phrase on it that has a blank area, and everyone else takes a white card from their hand to fill in the blank. The outcomes are frequently outrageous and never fail to make everyone laugh. Cards Against Humanity is an excellent pick for a game that will put everyone in a good mood.
Codenames: Codenames is a game that's all about communication and strategy. In the game, players divide into teams and try to guess the secret identities of their teammates' agents based on a series of clues. This game is great for groups because it encourages teamwork and communication, and can be played with groups of any size.
Telestrations: Telestrations is a game that combines drawing and guessing, making it a great choice for groups who love to be creative. In the game, players take turns drawing a word or phrase and passing their drawing to the next player, who must then guess what the drawing represents. This game is great for groups because it encourages laughter and creativity, and can lead to some surprising and hilarious results.
Answer This – Answer This is a lighthearted, fast-paced game that will have you laughing. You take turns reading a question off a card and writing your answer on the board. Everyone else has to guess what you wrote down. The first person to get 10 accurate answers wins the game.There are two versions of a game that are perfect for game night with friends. Answer This - Friends is ideal as an icebreaker for any group of friends or family. But if you want to liven things up and uncover the deepest secrets of your closest pals, go for Answer This - Black. Off-limits questions will leave you speechless and entertained for the entire night.

Jackbox Party Pack

- This collection of party games is perfect for groups who love to laugh and have fun. The pack includes a variety of games, from trivia to drawing to silly challenges, all designed to get everyone involved and having a good time. The best part is that the games are played on a smartphone or tablet, so everyone can join in using their own device. With its wide range of games and easy accessibility, the Jackbox Party Pack is a must-have for any game night.
Get Moving and Grooving: Active Board Games That Will Turn Your Game Night into a Party!
Active games offer a fun and healthy way to spend time with friends, while also getting everyone up and moving. Here are five fantastic choices that you should definitely consider:
Just Dance

: Just Dance is a video game in which players are encouraged to get up and dance to popular music. This game is great for groups since it gets everyone up and moving and may be a fun way to get some exercise and burn off some energy. Additionally, with a wide range of tunes and dancing styles to pick from, there's something for everyone.

Super Skills – The greatest skill game for all ages is Super Skills. Participants compete in 120 distinct challenges. The game is won by the first person to accomplish 10 challenges. Race against the clock, complete tasks in groups, or compete against everyone. The challenges range from basic to difficult, ensuring that everyone has a good time with Super Skills.

Twister

: Twister

is a popular game that requires physical coordination and balance. Players take turns spinning a wheel and placing their hands and feet on different colored circles on a mat in the game. As more people join in, the game grows more tough, which can lead to some humorous and amusing moments.

Charades:

Charades is a popular game that may be enjoyed by people of all ages. In the game, one person acts out a word or phrase without saying anything, and the other participants must figure out what they're attempting to say. Charades is a terrific activity for groups since it promotes creativity and collaboration while also resulting in some memorable and humorous moments.

Pictionary:

Pictionary is another great party game for large groups. The side with the most right guesses wins this traditional drawing game in which participants sketch then guess words or phrases. Pictionary is a fun game for people of all ages that can be played with just a pad of paper and a few markers. Pictionary is a game that everyone can enjoy because of its simple rules and limitless creative potential.
Outsmart Your Friends: Strategic Board Games That Require Critical Thinking and Teamwork!
Settlers of Catan: Settlers of Catan is a highly strategic game. For many years, this traditional board game has been a favorite among players. In the imaginary world of Catan, players strive to develop colonies, gather resources, and establish trade routes. Settlers of Catan is a terrific game for those who enjoy thinking ahead and working together to reach a common goal, with its blend of strategy, luck, and bargaining. Additionally, with several expansion packs available, the game never gets old.
Risk: Risk is a classic board game about world dominance. Players take turns assaulting and defending areas in order to dominate as much of the world as possible. Risk is beneficial to groups because it necessitates strategic thinking and diplomacy, and it may result in some intense and exciting moments as participants compete for dominance.
Werewolf - Werewolf is a social deduction game that requires players to use their intuition and deduction skills to determine who among them is a werewolf. Players are randomly assigned roles, and the werewolves must try to kill all the villagers without getting caught. Meanwhile, the villagers must work together to identify the werewolves and vote to eliminate them. Werewolf is a fast-paced and engaging game that is sure to keep everyone on their toes.
Playing games with your friends is a great way to spend time together and make lovely experiences that you'll remember for years to come. There are numerous options available, whether you prefer classic board games, vibrant party games, active games, or strategic games. Whatever your tastes are, you're likely to discover something that everyone will appreciate.
According to research, 57% of American households own 1 to 25 board games, while 4.2% own 51 to 75 games.
Not only is playing games with your pals a fun way to spend the time, but it's also a terrific method to strengthen your bonds with one another. You'll discover that shared experiences, laughter, and friendly competition help you bond more easily. Furthermore, playing games with people might help you relieve stress and improve your problem-solving abilities.
So, the next time you're searching for something fun to do with your friends, why not try one of the games outlined in this post? Remember that the most important thing is to have fun and enjoy the company of those you care about. So come together, have a good time, and create some lasting memories!
© 2023 The World Game. page by Trogon | All Rights Reserved | All images, art, game materials and The World Game™ trademark, are sole property of Sweetips d.o.o.